Our shared vision is to be an engaged, respectful and participative community of preschools, supporting children's lifelong learning journey in partnership with families.
Acknowledgement of Country
 Created by the children & teachers in the Kangaroo Classroom - Harris Park Preschool (2018)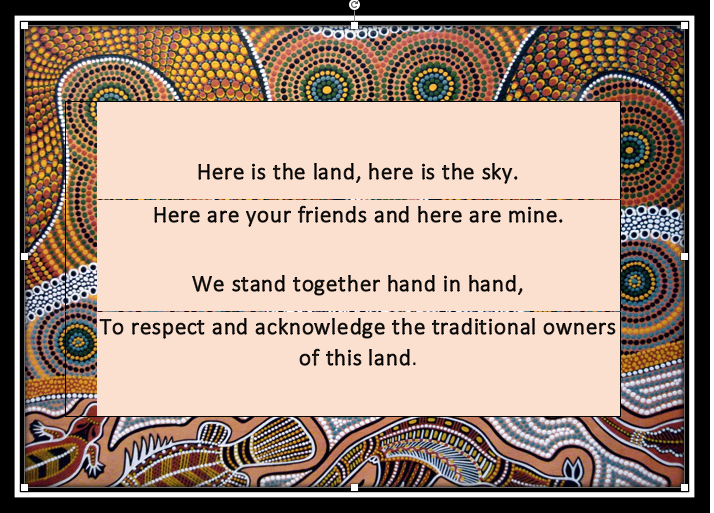 'Choosing a school for a child is one of the most important decisions parents make. The school - its teachers, curriculum, educational philosophy, and values both explicit and implicit - will affect the child's day-to-day life. It will help shape the child's personality, view of life, behaviour, and destiny as an adult. And it will also deeply affect the lives of the parents and the life of the family as a whole'
Ronald Koetzsch
Each of our individual Queanbeyan & District Preschool Association preschool philosophies is a living and changing document that reflects the knowledge, beliefs, and values of our early childhood educators, children, families, and the wider community. This shared Queanbeyan & District Preschool Association Vision Statement is the overarching statement that supports and shapes each individual preschool philosophy. Each service has unique characteristics and cultures which provide the rich context for their individual philosophy, curriculum, learning programs and ways of being.
We acknowledge that children belong first to a family - Queanbeyan & District Preschool Association, therefore, advocates for the development of respectful partnerships that rely upon trust, ethical behaviour, and social justice. We are committed to building strong, positive, respectful relationships with families and all members of our community. These relationships are nurtured through open communication and based on principles of engagement, mutual respect, honesty and a commitment to work together toward shared goals for children and families.
The best interest of children is our primary consideration. We acknowledge that the rights of the child are to be upheld in our daily practice, routines, program development, the organisation of staff and the decisions we make as an Association.
Current research and theory will inform our early childhood curriculum. We recognise the value and richness of children's play as a catalyst for their learning. The Early Years Learning Framework (EYLF) and the National Quality Framework (NQF) will guide the planning process in all our preschool services.
As an Association we are committed to the continued provision and support of accessible, affordable, high-quality preschool services for children and families within the Queanbeyan and District community. Our partnerships with family and community strengthen our capacity to support children and families, ensures we are reflecting local cultural and community need and in turn develops thriving early childhood services.
Environment, nature, and sustainability are important to us and current research and theory on Nature Pedagogy influence our outdoor learning environments and programs for children. Our learning environments and programs support children to become more connected, show respect for and contribute to the natural environments that surround our preschools and influence children's lives. The art of truly being with nature is at the heart of the work that we do with children - through connections with our outside natural community; working with the local Aboriginal & Torres Strait Islander Community (who have an embedded knowledge of local land); our preschool garden projects and sustainability programs; as well as daily opportunities for children to learn in and with the natural world - both inside our classrooms and playgrounds, and outside classrooms in the natural world beyond our gates, through excursions out into the community.